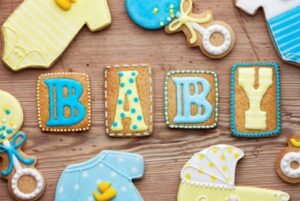 With the continuing COVID-19 epidemic, many expectant moms are planning virtual baby showers instead of in-person parties. While these online celebrations operate somewhat differently, the goal is to celebrate you and your child. It's time for an online tummy rub! Although the idea has been relatively recently removed, virtual baby showers aren't entirely new. Several parents have previously chosen to hold online celebrations to communicate with relatives and friends who couldn't attend an in-person event.
Virtual baby showers are often the same as standard baby showers, with one exception: they may occur before or after the child is born.
However, certain things will have to be adjusted. Most of all, we intend to clarify that a virtual shower cannot fully compensate for a real one. You can not have many of the same games, beverages, or the in-person socializing feel, and it's also a lot more informal we can't fault your guests for wearing pajama trousers to your online shower. (Though some visitors may appreciate the opportunity to freshen up!)
You might be unsure about handling it if someone doesn't want to participate in the activity, or you could have concerns about whether attempting and duplicating IRL event vibes in the internet world would be inconvenient. "Am I responsible for preventing conversation time-outs?" "Should I play songs that make people happy?" "I'm uncomfortable opening presents on camera!" It's all right if it's strange.
In some cases, real-world parties are equally unpleasant. However, we have some suggestions on how to make your virtual shower less unpleasant. (Or you could be grateful for an excuse not to open presents in front of all of your friends and family.).
This is not an easy situation, and it isn't typical. Whatever you're really going through at the moment, whether it's sadness, delight, or something else that's very typical. If it works, there are plenty of tales for those who tried their hands at virtual baby showers and had a good time.
Do virtual baby showers have themes? Of course, they do! They don't need to be done all the time, but themes are an essential (and lovely) part of planning baby showers they're entertaining to think about, and they aid in bringing together all of the various elements (welcomes, décor, food, etc.).
You should consider improving your online shower! Keep it lighthearted with some background decorations, like banners and balloons, that work with your theme.
In addition, you can discover many other options for altering your background, such as zoom!
Choosing your Virtual Baby Shower Online Platform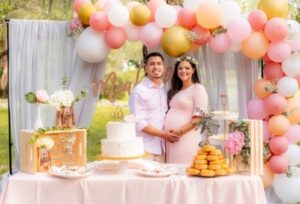 A virtual child shower usually requires an online location to assemble. Fortunately, with the current age of technological innovation, there are several alternatives for websites or applications to put your group on screen.
WebBabyShower: For around $80 (cheaper than the typical in-person shower), WebBabyShower provides a complete package for all of your baby shower needs, including a customizable site and endless invites, a digital guestbook where you may post after the shower is done, games, tests, and scoreboard, as well as web links to your Baby registry.
The only thing you have to do is choose the best free video clip software for your needs. Is it really that simple?
Conversely, social networking sites are also famous for organizing infant showers online, mainly because virtually all your visitors are likely to be there already. Facebook is ideal for gatherings with a well-organized welcome system and a Facebook Messenger integrated video chat system. Simply ensure that the event is set to private.
Video Chat Services: While hosting a virtuall baby shower without video is feasible, we think a real-time event stream is more enjoyable for everyone. Several options are available, but we suggest using a free video clip solution like Zoom, Skype, Facetime, Facebook messenger, or Google Hangouts.
An internet video clip is feasible as long as you and your guests have a net connection and a phone or computer with a webcam. You may also connect your PC to your television so everyone can see (and you can see everyone). Remember when selecting which video solution to use, whether for visitors or yourself.
Zoom: Zoom is one of the most popular video conferencing solutions, and it's also entirely free to utilize for everyone. It can connect up to 100 devices (500 for an extra fee), and you don't need to download or install any software, though a software choice is available. All you need is a web connection and a web internet browser (you may use a computer, tablet, or smartphone).

The creator creates a virtual place with a one-of-a-kind ID and password, which sends out the information to attendees. To attend the event, guests do not need a login. Remember that Zoom's free version allows for up to 40 minutes of discussion per space; additional time may be purchased, but you can close out the room and start a new one.
2. Skype: Zoom and Skype are comparable in that they're both free to use on any type of computer system, tablet computer, or mobile phone, and they don't need you to download and install the app if you're using a computer web browser. The key differences are that it can support up to 50 devices, and there is no password protection.
3. Google Hangouts: If you don't want to mess with setting up your own infrastructure or pay for another provider's cloud service, Google Hangouts Meetings is a good alternative. It only works if you have a Google/Gmail account, which is free and straightforward to sign up for. Keep in mind that video chat calls with 10 participants or less can handle up to 250 people if the call is audio/phone only.
4. Facetime: Facetime is Apple's free video-sharing service, which works with apple iPhones, iPads, and PCs and integrates up to 32 connected devices (enough for a baby shower). If you have access to WiFi, you may connect via mobile data or through it.
With Apple ID, several individuals can participate in a conversation simultaneously, and they must be accepted by the host. Remember that Facetime is limited to Apple devices, and OS X Lion 10.7 or later is required.
5. Facebook Messenger Rooms: Facebook's new team messenger service works well for big groups (though if you have a smaller gathering, standard Facebook Messenger video chats are still available). Anyone can use Messenger Rooms without having a Facebook account, so grandma won't need one to join in the fun.
There is also no limit on how long you can stay in the room, so you may keep the party going! The service also has some additional features that may make your online baby shower even more memorable:
You may customize the name of the space to anything you want. Make it enjoyable; be hyper-specific; be one-of-a-kind.
Guests may wear masks and AR effects to give their presentations a more magnificent (or absurd) appearance. Looking for a parlor game idea? Give out a prize to the guest with the best filter.
Decors may be used to change the backgrounds of visitors. Have you ever seen a shower theme? Make sure it's compatible!
You may also use a video phone call to connect with family and friends on the other side of the world or simply across town. In addition to chatting, each one of these video phone call options offers a chat capability so you can share photographs, deliver web links, or show yourself in emojis. Most conversation features are available on the screen without requiring additional action from the end-user; FaceTime is an exception since it will release iMessage.
Creating and Sharing Baby Shower Timeline
Although you don't need to follow a strict timetable, it's helpful to establish a broad schedule so that the event runs smoothly. Here are two alternative virtual shower calendars to consider, based on how much time you have:
If you have 40 minutes.
11 11:05 a.m. Overcome those that "show up" early in the conversation and allow everyone to figure out how to use the video phone call and prepare for the event.
11:05 11:25 a.m. Let the video games begin! (Scroll down for additional game)
11:25 -11:35:If you choose to do so, open gifts. If you don't want to open presents during your online shower, you can skip this step and add another 10 minutes to the games.
11:35 11:40 a.m. Digital bye-byes!
If you have 90 minutes.
11 11:10 a.m. Overcome those that "show up" early in the conversation and allow everyone to figure out how to use the video phone call and prepare for the event.
11:10 a.m. 12 p.m. Let the video games begin! (Scroll down for additional game)
12 12:20 p.m. If you choose to do so, open gifts. If you don't want to open presents during your online shower, you can skip this step and add another 20 minutes to the games.
12:20 12:30 p.m. Digital bye-byes!
After receiving feedback from the mom-to-be, hosts should communicate a "schedule" with everyone in advance (including the guest of honor) (a few days before the shower, you may include this information in the suggestion).
Sharing the plan aids everyone in anticipating what's coming as well as how to manage the time. Try to keep the timetable at an hour or less, whenever feasible.
Although the most popular online payment methods are improving, many consumers still prefer to use a physical card. This is due to several factors, including ease of access and convenience. Because individuals have been sending invites via text message for years, they are familiar with and comfortable using it.
Sending out invites digitally provides guests an easy way to obtain links to newborn registries and respond, as well as include the URL and other important information.
Knowing how many people they'll have to deal with ahead of time might help the hosts better organize the time needed for all activities.
Ask that all presents be delivered directly to the mother or father ahead of time so they can be opened online during the celebration.
Expectant moms and dads have long used online baby registries, which are well known to many. Parents-to-be simply goes online to their preferred stores or Amazon.com and add the items they want to a public checklist that may be shown to visitors.
Sharing the registry will also be critical. Don't forget to add them to your digital invites!
Virtual Baby Shower Games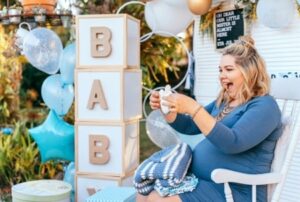 Just because you're not all in the same room doesn't mean you can't play games and win rewards. The majority of one of the most common baby shower games (those usually played on paper) may still be played as online activities, and here are some ideas we think work well for small groups:
Sketchful.io: Whether you're an artist or not, this online Pictionary-style game is a lot of fun. Create your avatar and a unique environment, send out welcomes (copy and paste the link into whatever chat software you're using or text it), and get drawing!
The Price Is Right: Hock a collection of 4 to 5 baby stuff (such as a container, body suit, box of baby diapers, can of formula) to the camera and have everyone record their idea for the entire price of everything. After that, have all guests show their estimations to the cam. The one closest to the actual overall cost of the goods wins!
JackBox Games: The JackBox Party Pack is a collection of five-party games accessible on your computer, gaming system, or smartphone. You don't have to be a player to enjoy them, either. Although each game limits how many people can play at once, visitors may participate as audience members to see others play and even vote on points.
How Well do you know the Mom? Utilize the downloadable layout to assess potential visitors on how well they understand the expectant mother. The higher the score, the better!
Guess the Number. The host stacks a container with sweet items (like M&M's, jelly beans, or Hershey's Kisses) and instructs visitors to estimate how many are there.
Name That Baby Song. Visitors try to name the song as quickly as possible while the host performs distinctive nursery rhymes or famous kid songs.
The Celebrity Baby Name Game. Match famous kid names with the celebrity mother using the downloadable templates online.
Who's That Baby? Before the conversation begins, have visitors submit photographs of themselves as children to the host. The host passes them on to the group, with each person attempting to guess who they are.
If you choose to receive visitors' presents, they can send them directly to you so that you may open them on your camera (if you wish), or guests may keep their gifts during the shower and open them for you on camera so that you may see (they can then send them to you later). Alternatively, if some guests want to deliver their gifts sooner but others cannot, a combination of both is possible.
One-of-a-kind feature of having a digital baby shower is that it does not need to go on indefinitely once guests have sent you presents after the shower day.
Baby Shower Thank You Notes
It's entirely up to you to decide whether or not a transcribed note is required and if an email thank you would be enough.
It is critical to appreciate your visitors' gifts and let them know how grateful you are for their participation in your long-distance child shower, no matter what.
Final Thoughts How to Have a Virtual Baby Shower
When expecting moms and dads are not close to family and friends, throwing a virtual baby shower may be a wise and enjoyable social activity when preparing for motherhood.
A virtual baby shower is a wonderfully inventive and flexible alternative that will make cherished memories for the pregnant mother and/or father. Remember to save photos so the parent-to-be may view them the same way as they would if it were an in-person event.